CLIMATE INSTRUMENT CO.,LTD Business License
Business license is a corporate business license for short, is the enterprise or organization is a legitimate right to operate the certificate.If the industrial and commercial enterprises or individual operators have no business license are not allowed to open, not engraved official seal, signed a contract, a registered trademark, advertising, the bank will not open an account.
Business scope:Test equipment and instruments,Laboratory testing equipment and instrument,Automation equipment.

Test equipments including :Environmental test chamber,Thermal Shock Test Chamber, Aging Test Chamber, Rain & Spray Test Chamber, Walk In Chamber.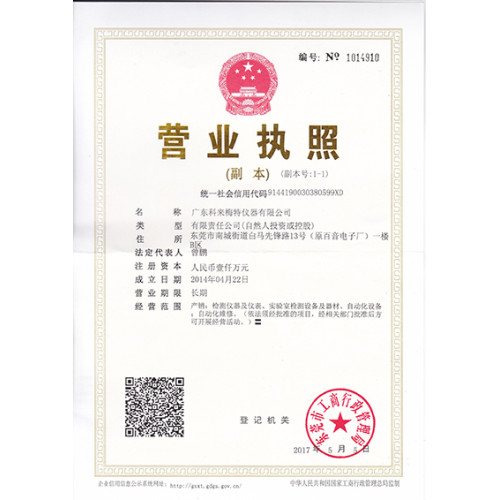 Period:
2014-04-22 - 2031-08-08
Certification bodies:
Business Administration In Dongguan
Tel: +13631613247

ivy@szkuncan.net

Huilong Village, Qiu'ai Town, Yinzhou District, Ningbo City, China